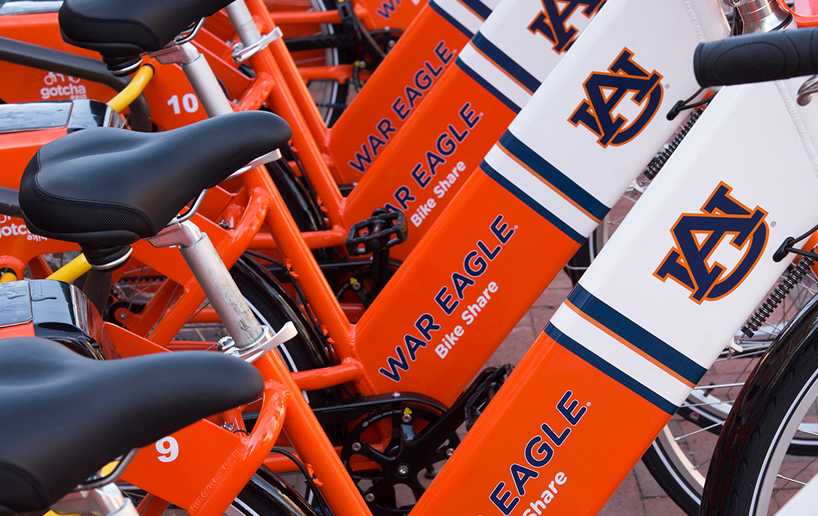 Auburn University Provides Bicycle Sharing Program for Easy Transportation
Uncategorized
More Auburn University students will be pedaling through campus thanks to a new bicycle-sharing program by Parking Services, which has partnered with The Gotcha Group and local bicycle shops to bring 75 Auburn-themed bicycles to campus.
The War Eagle Bike Share bicycles will be distributed to 10 different stations around campus: Cambridge dorms, Village Dining, South Donahue dorms, Roosevelt Concourse by the College of Sciences and Mathematics, north end of Terrell Dining, South Quad parking deck, College of Veterinary Medicine, the concourse between the Haley Center and Student Center, Lowder Starbucks and on West Thach by the West One parking lot.
"We're enhancing the sustainability of transportation by reducing students' need to bring vehicles to campus," said Don Andrae, Parking Services manager. "If the bicycles placed on campus breed a successful bike share program, we hope to place more War Eagle Bike Share bikes at near-campus apartment complexes so students can ride to and from campus."
The first two hours of use are free each day. After those two hours, users are charged $5 per hour with a maximum usage charge of $25 per day. The bicycles must be picked up and returned to one of the 10 designated locations to avoid a $50 fee for ending a ride outside of one. The charges can be billed to a credit or debit card or to a student's TigerCard.
Image Courtesy Auburn University